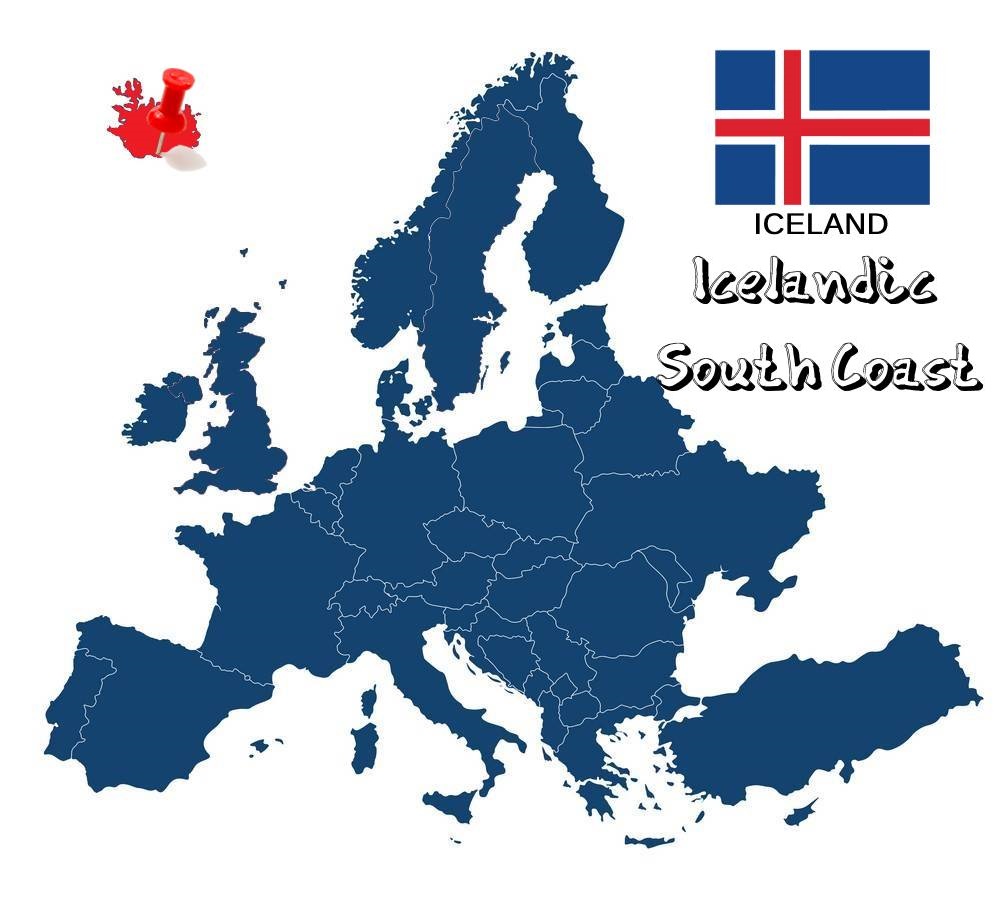 If we were to liken Iceland to a large iceberg, then its peak would surely be the south coast of the country. This unique place gathers the most natural landscapes of the country and as is logical, the largest volume of tourists. The expression a picture equals a thousand words, it is fully confirmed here, since to describe in words these unique places seems almost impossible. Well, I'll give it a shot.
A few words about the area
The South Coast is considered the most beautiful part of Iceland. It hosts some of the most extraordinary and remarkable natural wonders of the land of fire and ice, which seem to have been plucked from another planet. Geographically it is considered to start in the country's capital, Reykjavik, and end in Höfn, which in Icelandic means port. To discover it, it is enough to drive along the famous Route 1. It is a sparsely populated spot, which has few settlements, which serve mainly as pit stops, among the exploration of these magical natural landscapes. So I will try to present you the Icelandic South Coast through my own eyes and share with you what I think a first-time visitor should see.
Seljalandsfoss
Seljalandsfoss waterfall is considered one of the most recognizable sights in Iceland. It is 128 kilometers from the country's capital, Reykjavík and is fed by melting water from the famous Eyjafjallajokull Glacier. This powerful waterfall falls from 60 meters into a beautiful meadow, which will strongly remind you of a scene from Lord of the Rings. However, the reason Seljalandfos is famous is the fact that one can walk behind it! Walking along the path on the right side of the waterfall you will see a truly unique sight. A huge curtain of water will appear in front of you and make you stare at this wonder of nature in awe! However, if you attempt to go to this spot, you should be very careful, as the rocks and ground are slippery, especially in winter. Ultimately, wear waterproof shoes and a waterproof jacket, as the water is thrown at a very high speed and otherwise you will leave completely wet.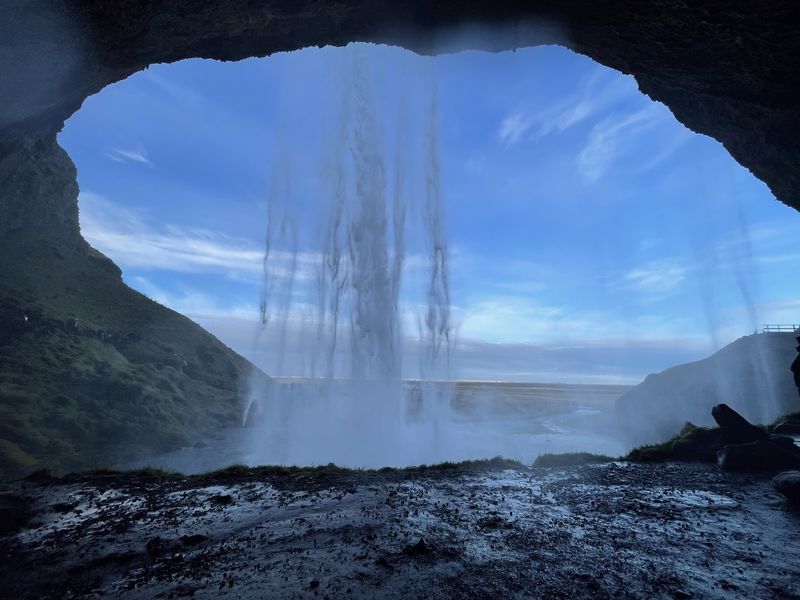 Skógafoss
On the other hand, Skógafoss is one of the largest and most beautiful waterfalls in Iceland with an amazing width of 25 meters and a drop of 60 meters. It is unique as it comes directly from two glaciers, Eyjafjallajokull and Myrdalsjokull! Due to the amount of spray that the waterfall consistently produces, a single or double rainbow is usually visible on sunny days. Plus, I recommend climbing the 370 steps from the right side of Skógafoss to the top, where you will be rewarded with a stunning view of the south coast of Iceland.
Reynisfjara Black Beach
Reynisfjara is a world famous black sand beach, located next to the village Vik, which is the southernmost in mainland Iceland! It is one of the most charming and emblematic spots in the country, with National Geographic including it in the ten best non-tropical beaches to visit on the planet! Of course the Black color of the sand comes from the volcanic rocks that surround it, which have been created by lava that cools and solidifies. Despite its wild beauty, this beach is considered one of the most dangerous locations in Iceland and swimming there is strictly forbidden. There are strong undercurrents and waves that will make it impossible to reach the shore again if you venture into the water! So when you get there, it's best to be extra careful if you don't want to end up in the ocean!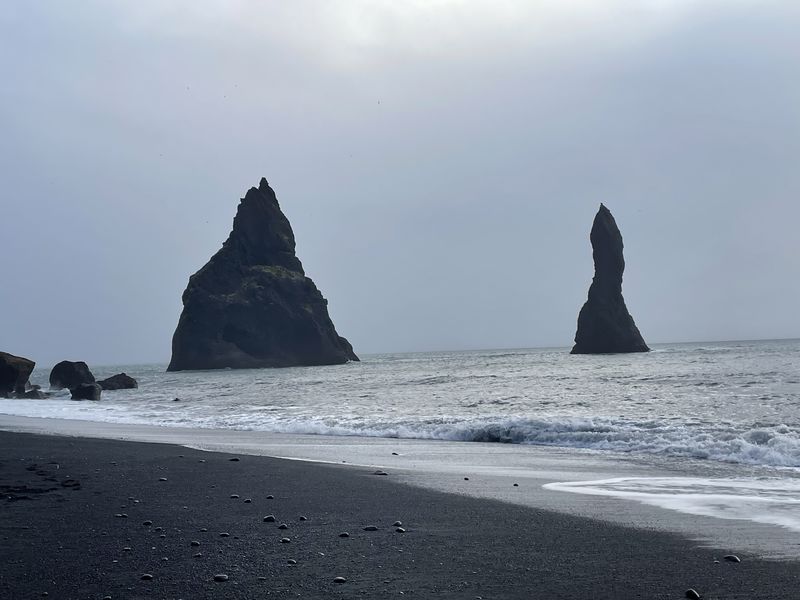 Vik
Vik is a small coastal settlement on the outskirts of the Mýrdalsjökull Glacier, which under its ice hides the famous active volcano Katla. The area is recognized by UNESCO as a world geological park. Although it has only 291 permanent residents, it is an important station, because the nearest settlement is 70 kilometers away! This makes Vik a refueling center not only for tourists, but also for locals who, especially in adverse conditions, the concept of distance takes on other dimensions. A hallmark of the village is its white church, which was built on the hill in 1929. Finally, in Vik there are many remarkable accommodations and restaurants, while when the weather allows it is worth walking to come across some unique images.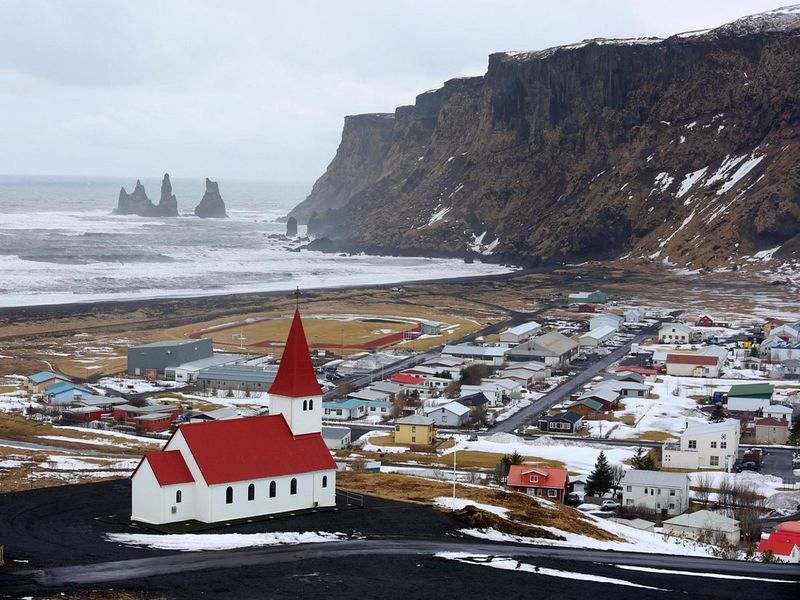 DC-3 Plane Wreckage
One of the most unique sights to be seen on the south coast of Iceland is the wreckage of a warplane (DC-3 Plane wreck) in the Solhaimasadur area! It is an aircraft of the U.S. Navy.P.P., which in 1973 ran out of fuel and was forced to an immediate landing on this particular beach! Fortunately, the area where it fell was a vast sand plain, and so it landed easily without any casualties. It later turned out that the pilot had simply switched to the wrong fuel tank. The wreckage of the aircraft will still be found in the area, and in recent years has been an attraction for travelers. This particular attraction is located near the beach, and driving there with your own car is prohibited! So your options are two. The first is free and includes 45 minutes to an hour of walking and the second is to get on a bus that takes this route, every half hour. If you choose the second option, you will have to pay around 7e!! I suggest you put it on your schedule in the morning hours, as there are usually hundreds of people who want to photograph it and be photographed along with the plane.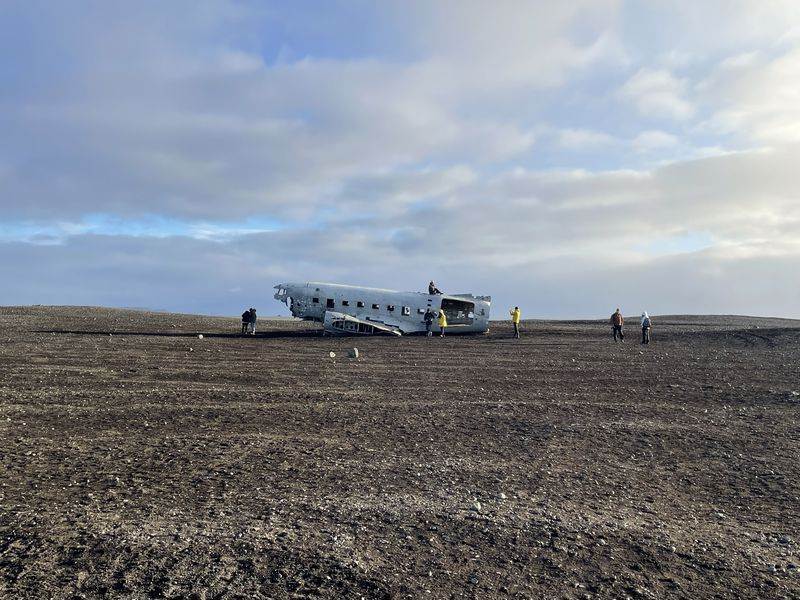 Katla Glacier
The Katla Glacier (Katlajökull) is one of Iceland's most active volcanoes, located under the country's fourth largest glacier, Mýrdalsjökull. Since it was settled, it has erupted, on average, once every fifty years, with the previous eruption being in 1918. As you can see, it's long overdue! An eruption on a glacier volcano is completely different from what we're used to. Violent explosions and water in melting, rushes down and causes a massive flood. In this particular case, in a potential eruption, there is a fear in Vik that a tsunami could be created and the entire city destroyed! It is interesting to note that in Icelandic Katla means "kettle", while many women have been named after the volcano, making it one of the most popular girls names in the country! Over the past few years, there have been countless films such as Noah, Katla, the Witcher (Season 2), Transformers the Last Knight, Star Wars Rogue One and more. While there I suggest booking a tour and hiking on the glacier, watching magical images taken from the cinema.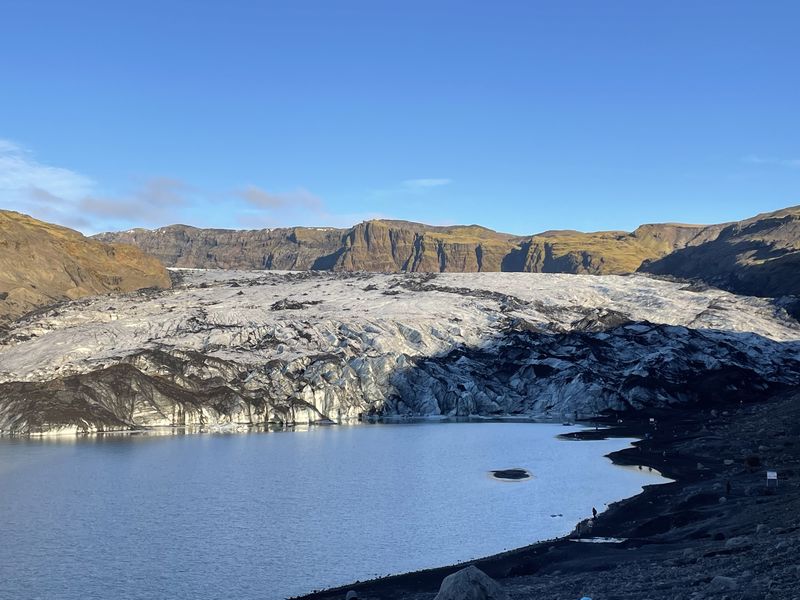 Jökulsárlón Glacier Lagoon
One of the most special experiences one can have in Iceland is sailing in a glacier lake! Yes, you read that right, on the south coast of Iceland there is a glacial lagoon, called Jökulsárlón Glacier Lagoon, in which there are icebergs over 1000 years old!! These pieces of ice come from the Oraefajokull glacier, where in recent years it has receded noticeably, creating a unique scene. So in this lagoon blue, white, turquoise and black icebergs float in a mixture of salt and fresh water and look like they are doing a frozen dance. Of course, this point has not gone unnoticed by film producers and Hollywood, since it has been used in major films and series, such as Batman Begins, James Bond and Game of Thrones! So if you plan to be in the area, don't miss the opportunity to live this particular experience and be part of the tour that exists in the lake. Together with an experienced guide you will get on some amphibious vehicles and ride around the lake and learn all about it. However, it would be good to book the tour in advance because it is usually sold out months in advance! Even if you don't sail on the lake, it's worth walking alongside to admire the wonderful scenery and the seals basking on the tops of the icebergs!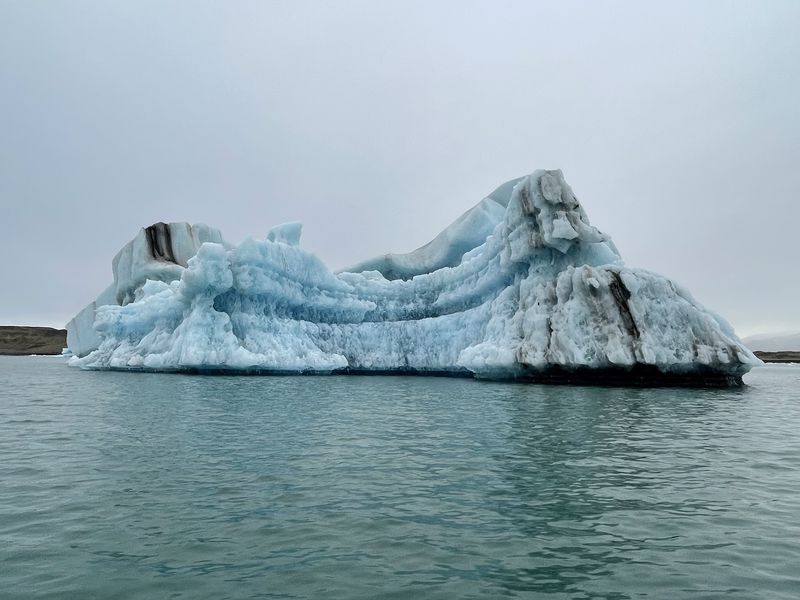 Diamond Beach
Next to the Jökulsárlón Lagoon, you will also discover an extremely impressive scenery of this unique country. Diamond Beach is a strip of black sand, belonging to the wider glacial plain of Breiðamerkursandur. Of course, on this particular beach, there are no regular diamonds, but large and small pieces of ice, which wash up on the shore from the lagoon, creating a strong contrast with the volcanic black sand. This particular spot is a favorite location for professional photographers and nature lovers, while the area is frequented by many animals such as seals and whales!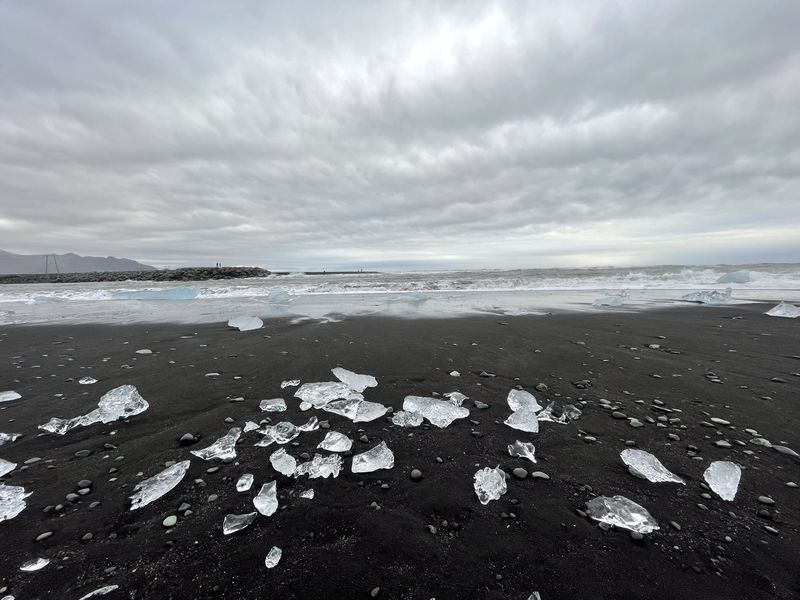 Stjornarfoss
Stjornarfoss is another charming waterfall on the south coast of Iceland, easily accessible on a tour of the ring road. It is a hidden gem, which is not known to most and this gives it even more interest. This way you will avoid the crowds and enjoy at your leisure the incredible landscapes that surround it. It is almost 15 meters high, but looks shorter due to the impressive shape of the rock behind it. It also feeds the river Stjor with its icy waters, while before its gentle fall, the water from the mountain Geirlandshraun passes through the narrow gorge connected to the waterfall.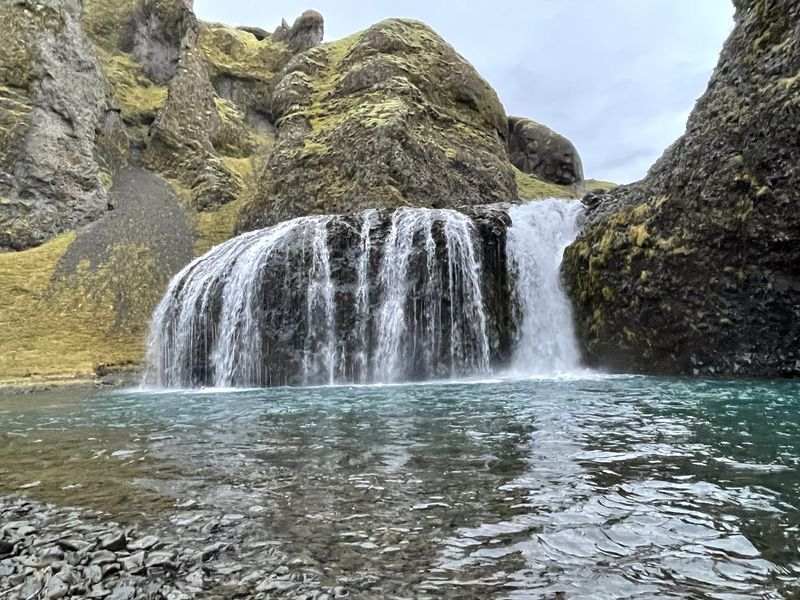 How to go
At the moment Thessaloniki, as it is not directly connected by air with Iceland, so in order to reach the country you have to make at least one stop. The most economical option comes from a combination of flights between Wizz Air and Ryanair, via Vienna and Milan respectively, which with proper planning one can find tickets starting from 120€ round trip!
Where to stay
In Iceland, accommodation is extremely expensive. What we call value for money does not exist, as all hotels are overpriced. If you do this route, I suggest that you don't just stay in one hotel, inn or rented room, but choose the right one based on the stops you will make on your itinerary. So my suggestion is located in Vík and is the Puffin Hotel Vík.
How to move
The wisest way to move to Iceland's South Coast is, of course, to rent your own car. Although Iceland is expensive in most cases, renting a car is not so prohibitive. This way you will have the ability and flexibility to discover what you want and at the pace you want. Another solution is to go in groups, since there are dozens of companies that carry out organized bus tours from Reykjavik.
What to eat
Icelandic cuisine is considered one of the strangest in Europe and is quite far from the cuisines of Mediterranean countries. It is mainly based on meat, such as sheep and lamb, various soups, as well as fresh and dried fish. The truth is that strange foods such as Hakarl shark or puffin, are no longer consumed by the locals but continue to exist in restaurants for tourist reasons! However, you should know that food in Iceland is very expensive, with a dish in a restaurant costing from 20 to 40e!! Thus, many locals and tourists resort to the solution of street food, the most popular of which is the hot dog! Food options in this part of the country are limited. A good option for hot soup, if you're stopping in Vik, is The Soup Company.
Useful information

On the Icelandic South Coast, we travel with Passport or a new type Police ID, where the details are written in Latin characters.
On the Icelandic South Coast, the language used is, of course, Icelandic. But the majority, even the elderly, speaks English, so ask for clarification in English.
The country's currency is the Icelandic krona (ISK) and its current exchange rate is €1 = 150.90 kroner.
The Icelandic South Coast is three hours behind Greece (GMT).
The Unpaid Consulate General in Iceland is located in Reykjavík at Baejarlind 6, IS-201 Kopavogur and its telephone number is (00354) 5510700.
The weather in Iceland is unpredictable and can change from minute to minute. Here there are no hot days, but less cold days, so if you want to explore the country from end to end, then the most ideal time is summer. The temperatures are relatively high, while the days are quite long. Of course, if you wish to see the Northern Lights, you should be in the country in winter. Then the cold and the wind will be very intense, the daylight will be minimal, but this unique phenomenon in relation to snowy places will compensate you!
Recommended excursions → Reykjavik, Golden Circle, Akureyri

If this article seemed interesting or contributed to your quality information, then you can like my facebook page: o_thessalonikios or follow me on instagram!
Mouzakidis Pantelis